In Fleming Fulton all pupils are timetabled for Art and Design activities which encourage them to:
respond to the world around them;
respond to their individual feelings and emotions;
develop and use their imagination;
express their ideas, thoughts and feelings;
solve problems; and
become more aesthetically aware.
We undertake activities in the following areas up to GCSE level and have introduced this year CCEA's new Entry Level course in Art and Design.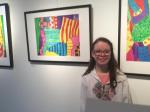 3d construction
ceramics
drawing and painting
lens-based digital media
printmaking
textiles
ICT in art and design
When possible we bring in visiting artists and are proud to have hosted and worked with sculptors, printmakers, textile artists, painters and film makers at Fleming Fulton. We are very proud of the artistic achievements of both our Keystage 3 and GCSE pupils and have had great success in GCSE exam results, in public exhibitions most recently hosting a sellout exhibition in the Crescent Arts Centre in Belfast as part of the Bounce Festival. Click on some of the galleries to view our wonderful work.